Welcome to our blog, in which we will introduce you to four villas, all located on the Šibenik Riveria! This beautiful region along the Croatian coast is still a real insider tip and often overlooked by tourists. However, the Šibenik Riviera is a true gem with crystal clear waters, stunning beaches and charming villages. From the impressive Šibenik Fortress to the UNESCO World Heritage Site Cathedral of St. Jacob, there are plenty of sights to discover here.
The gorgeous Villa Laurel, in raised first floor style, can accommodate a total of 6 people. The property has an area of 80 m2 and a yard of 500 m2, which is surrounded by a fence or hedge, providing the necessary privacy. Enjoy the view of the green area and the quiet street while relaxing in the available garden furniture or cooling off under the outdoor shower.
The villa is equipped with everything you need for a pleasant stay. There is air conditioning and heating, free internet and a safe for your valuables. In addition, a crib, an iron and a washing machine are at your disposal. Bed linen and towels are included in the price, so you can feel at home.
In the accommodation you will find two bedrooms, one with a double bed and the other with two single beds. The living room can accommodate two more people on a sofa bed. The bathroom is equipped with a shower and a hairdryer.
Pets are welcome for an additional fee of 10 € per day. Cleaning and tidying is done at each change of guests.
The location of the villa is ideal, just 2.5 km from the entrance of the Krka National Park, while the center is 10 km away. There are also restaurants, bars and shopping nearby.
Villa Laurel is the perfect place to enjoy your vacation in peace and experience the beauty of Croatia. Feel free to contact us for more information and booking. We look forward to welcoming you to Villa Laurel!
This beautiful villa on two floors can accommodate up to six people and is the perfect place to enjoy your vacation. The villa offers a quiet environment and stunning views of the green area.
The villa is equipped with everything you need for a pleasant stay. The air conditioning, TV and internet will ensure that you can stay in touch with the world while on vacation. If you value security, there is a safe where you can store your valuables.
The house also has a garden with garden furniture, where you can relax and enjoy the beautiful surroundings. An outdoor shower completes the offer.
Villa Stone is also child-friendly and offers a crib to make the stay more comfortable for families with children. The villa has two double bedrooms where you can relax and unwind after a long day. The house also offers two extra beds in the living room, so it can comfortably accommodate up to six people.
The first bathroom has a bathtub, while the second bathroom has a shower.
Villa Stone offers a pleasant stay at an affordable price. If you are looking for a cozy and peaceful accommodation, you should definitely stay at Villa Stone.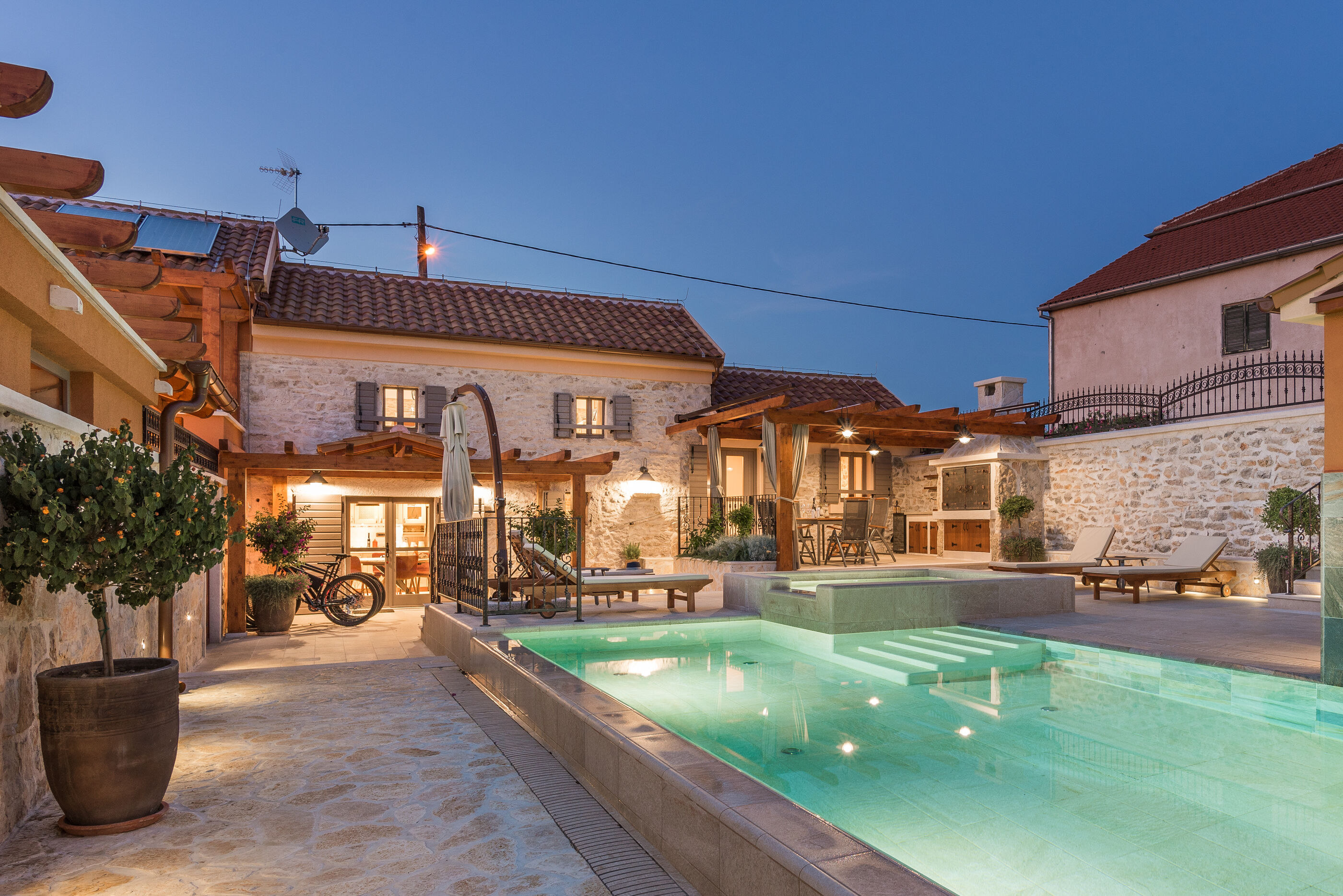 Villa Neva can accommodate a group of up to eight people in a spacious vacation apartment on two floors. The accommodation offers a breathtaking view of the sea, the green area and the yard. The house itself is an impressive 300 m², while the courtyard covers a generous 1000 m².
In terms of facilities, Villa Neva offers everything you need to feel at home. In addition, there are four bathrooms with showers and a toilet with a sink. All these amenities are available for free, so you can enjoy your stay without any additional costs.
It is also worth noting that cleaning and tidying is done every time guests change to ensure that the accommodation is always clean and cozy.
The rooms of Villa Neva are divided as follows: The first, second, third and fourth rooms each accommodate two people and have a double bed. With this spacious and fully equipped villa you can spend an unforgettable vacation on the island and enjoy the beauty of the surroundings.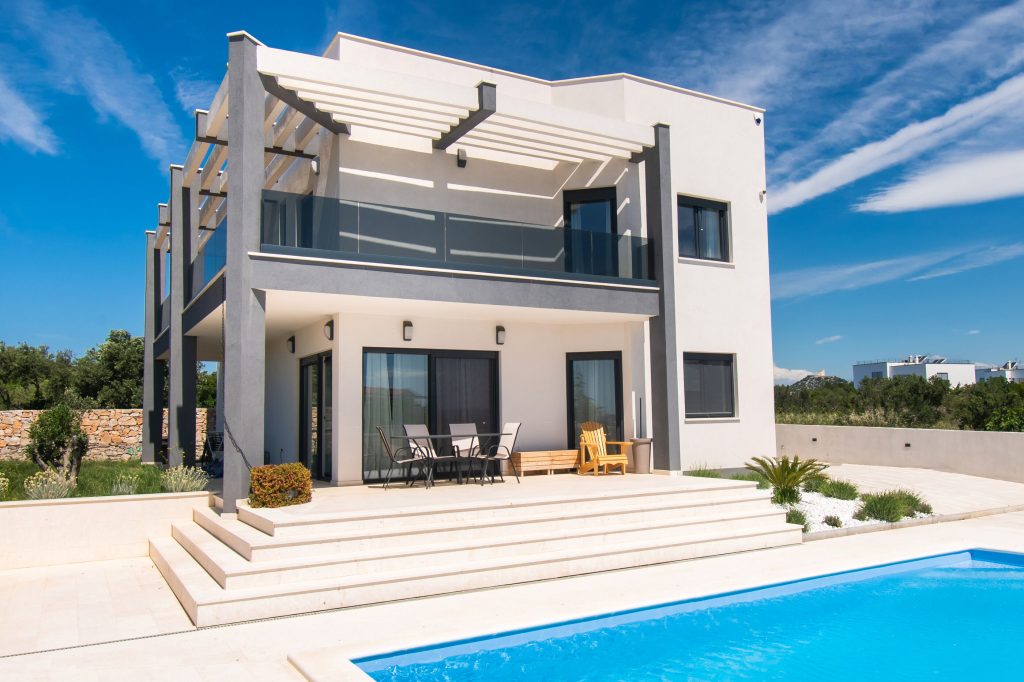 Villa Whitestone is a beautiful vacation accommodation that can accommodate a total of eight people and is built on two floors. With a size of 270 m² and a garden of 1120 m², this accommodation offers plenty of space to relax and feel good.
There are three bedrooms in the villa, with each room having a double bed. In addition, there is a living room with another bed.
The villa has full facilities, including air conditioning, heating, internet, TV, crib, iron, washing machine, bed linen and towels. The bathroom is equipped with a bathtub and a shower, while there is a separate toilet with a sink. The air conditioning, heating and internet are available free of charge.
Overall, Villa Whitestone is a perfect choice for families or groups of friends who want to spend a luxurious and relaxing vacation in Croatia.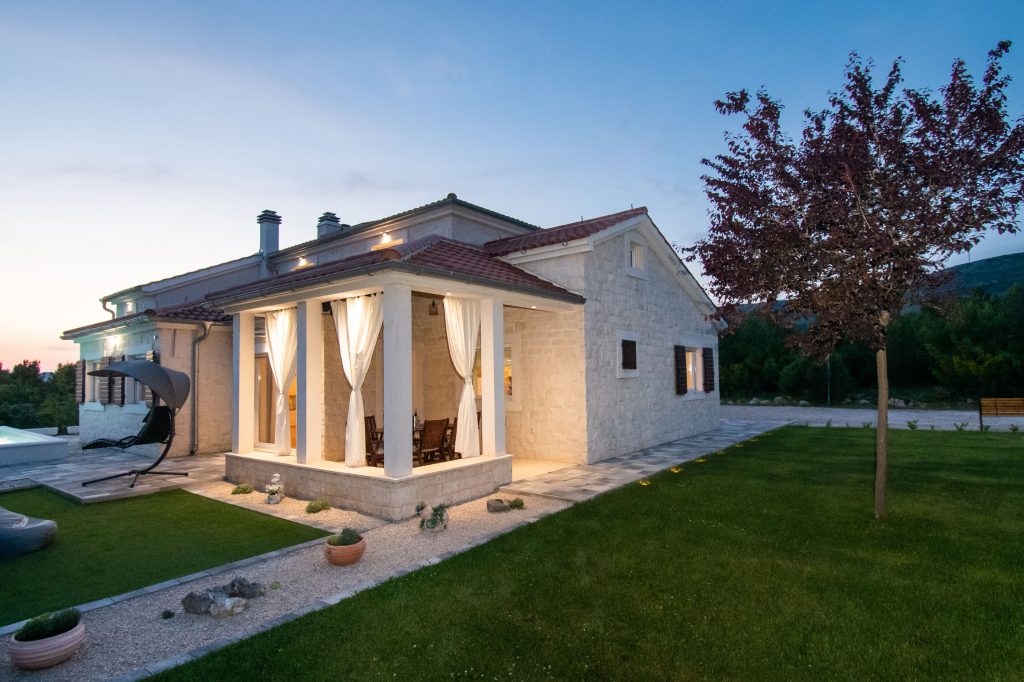 Feel free to contact us at any time for more information, as well as for questions. We are looking forward to meeting you!